Day-to-Day Management

Easy Order Management
We know this is where you'll spend a lot of time, so we make payment processing and fulfillment easy for merchants doing one or thousands of orders per day! Using the Order Manager, you'll be able to easily search, review, and process all your orders. Quickly view the summary page, which shows all new orders, and includes visual aids so you can easily see the payment status, shipment status, and overall order status of each.

Shipment Manager
An order's shipments can be completely modified after the order has been placed. Add new shipments to an order, edit existing ones, merge and split shipments, and recalculate shipping costs. There's a lot of flexibility available to completely modify an order after it's been placed. You can change quantities, add coupons or discounts, issue credits, add or remove products, and more. When you are ready to ship your order, simply enter a tracking number, if desired, and click the 'Ship' button. This will automatically send an email to the customer letting them know their order is on the way. Easily handle partially shipped orders too!
Payment Processing
Just like your merchant account, AbleCommerce can authorize transactions, capture full or partial payments, and process refunds too. When new orders come in, you and the customer are notified by email. From the Order Manager, you'll be able to see all recent orders and immediately identify valid orders that are authorized or paid, or see orders that have had a failed payment for some reason.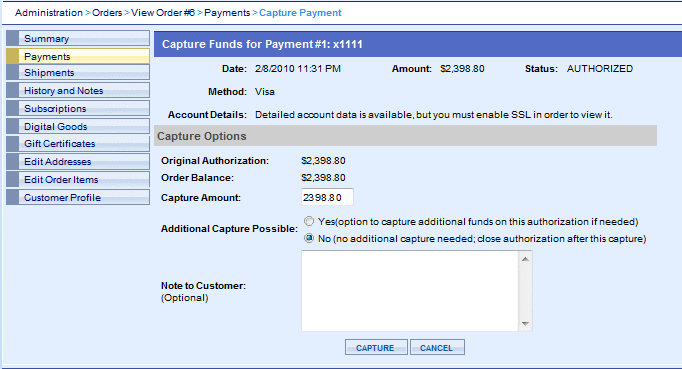 Making order changes is a snap
Customer requests an order change by phone, or using the online Order Note system.
Merchant receives the request and makes changes to the order.
Customer logs into their Account and pays the balance due on the order.
Phone Orders? No Problem!
Your order administrators will love our Place New Order feature where they can use a step-by-step wizard to create accounts, lookup existing accounts, build new orders, and take payments over the phone. With the deferred payment option, you can create new orders with a payable invoice. The customer simply logs into their account, views the invoice, and pays the order online.
This system creates an additional layer of security because you can avoid taking sensitive credit card information over the phone. By having the customer return to the store to make a payment, the credit card information is securely transmitted over SSL encryption.
Tools to Manage your Store
After you start selling, you'll need the tools necessary to maintain your online catalog. We provide a convenient daily management menu so you can go to one area and find everything from approving product reviews to replenishing stock levels.
Maintain Inventory Levels
Never let your product inventory run out again. We'll send you an email when a product's inventory level is considered low, by the level you set. To replenish your stock levels, just view the Low Inventory report and make adjustments as new inventory is added.
Think of the time you'll save with these great admin features
For companies doing moderate to heavy online sales, you'll appreciate having batch processing for payments and shipping. Using the powerful order search page, you can find and process transactions and shipping for many orders at once. You can also print multiple invoices, packing slips, and pull-sheets.
For companies that have a unique order and fulfillment process,we offer you customizable order statuses which can be used with email notifications to create your own unique system for handling order fulfillment.
Batch editing is a powerful feature that allows you to search for products and make multiple updates to your products from one page.

Management of your gift certificates, digital goods, and subscription plans!
Manage all your gift certificates from one page.
Check balances, activate, deactivate, or view detailed information about each gift certificate.
Automatically fulfill orders with digital goods by validating files for download and issuing license keys.
Use the built-in email templates to send download links and serial keys automatically.
Manage all your subscription plans from one page.
Summary and detail views showing the active, inactive, and plans getting ready to expire.
Approve and Edit Product Reviews
Product reviews are becoming increasingly popular and many shoppers are now using product reviews to make their purchase decision. If you have a great product, then a product review system is what you need. You'll be able to decide who can submit a product review, choose security options for making a review submission, and, if you like, you can also view and edit product reviews before they are submitted for all to see.