Product Features

Basic Product Features
When you create a product with AbleCommerce, basic information like a name, summary, description, and detailed description can be stored. You can also enter product prices for retail, actual, and cost of goods. Enter product SKUs, part numbers, and assign your products to manufacturers or vendors for additional features.
To use real-time shipping services, you'll just need to give your product a weight. The software has very flexible shipping abilities, such that you'll be able to determine specific shipping services that will be available for any product shipping to any destination. This works well for merchant selling perishables, oversized items, or products with shipping restrictions.
Other Unique Product Features
There are more special features available to products:
An option to hide the price of a product until a user clicks on a 'Show Price' link.
Turn a product into a gift certificate. On purchase, the gift certificate serial number is automatically created.
An option to use variable pricing where the customer may enter their own price. Use with Gift Certificates!
Products can have multiple gift wrap choices, which can be free or purchased. Gift notes available too.
Easily make any product featured. The item will rotate automatically with your other featured products.
Set minimum or maximum purchase requirements, or require that items are purchased by increments.
You'll love what we can do with images!
Using the Asset Manager, or through any product page, you can upload a single high quality picture and the image resizer will instantly create three different sizes. Each product can have a standard image, a thumbnail, and a tiny icon for the mini-basket.
If you wish to display more product images, then add as many additional pictures as you like, and they'll be displayed in a gallery-like window from the product page.

For large catalogs, you may want to take advantage of the Image Lookup by SKU feature. All you have to do is create three sizes of images using the graphics program of your choice. Name your images with the matching product SKU and upload them directly to your website. When pages are displayed in your store, the images will automatically appear for the products with matching SKUs. This can be a big time saver!
Product Options and Variants
By using product options, you can maintain a smaller catalog and your store will be easier to shop at. A product option is simply a variation of the base product. Perhaps you sell clothing and want to offer different sizes and colors. Just create an option for size and another for colors, add all the choices available, and the product page will automatically update with selectable options. The product options can be used for almost anything. You can even use them to track inventory or schedule dates.
Used with Inventory Control
After you create your product options, you can choose to use them as variants. A variant is simply all the possible combinations from the options you enter. We'll use an example to illustrate how variants can be used.
The fictional product above, Grandma's Famous Jam, has two options, size and flavor. The sizes available are 6oz or 8oz. The flavors available are strawberry and blueberry. The base price of the product is $6.00 and the base weight is 6oz. In the example above, the top row shows the first possible combination of the four jam choices, a 6oz jar of strawberry.
The merchant will need to increase the price of blueberry jam by adding $2 to the base price. She can also increase the weight of the 8oz jars by adding 2oz to the base weight. For each combination of option choices, you'll have the ability to modify or overwrite the base product price and/or weight.
If the blueberries run out, she can simply uncheck the 'Available' box and those options will be unavailable for purchase. When an option choice becomes unavailable, the product page accurately displays only the choices available depending on the prior selections made. Using another example, a shoe is sold in three colors and all sizes, but size 8 is unavailable in black. If a customer chooses black as the first choice, the second list of choices will be refreshed to contain only the sizes available for black (excluding size 8). With inventory control, only available items will ever be displayed to the customer unless you allow back orders.
Fill or Schedule Classes
You could also use option variants to fill schedules or classes by entering the dates and months available as options and using inventory for the number of seats available. The flexibility of options and inventory makes it very easy to accommodate many product scenarios.
Option Swatches
A swatch is simply a smaller sized image that can be displayed when it is associated to an option choice. When the customer clicks on the smaller swatch image, a larger version appears for the standard product image. Most often, it's best to use swatches when a picture describes your option choices better than using text.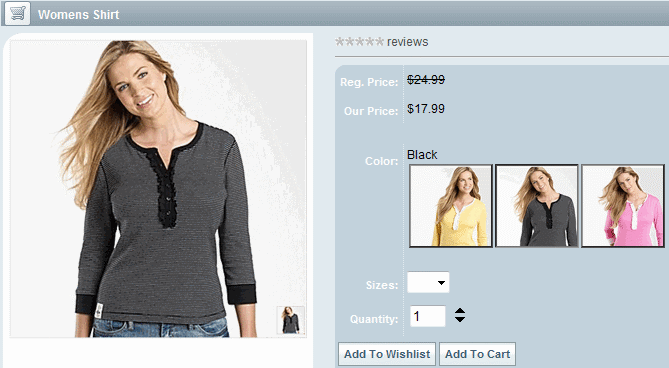 AbleCommerce Kitting
We were the first ecommerce solution to have product kitting. Over the years, our kits have been improved and enhanced to accomodate many different styles and features. A kit is simply a bundling of other products that you sell. You'll be able to decide how each member product is displayed to the customer. The products within a kit can be included by option or required as part of the purchase.
Types of Kits
Kits are different than using a product with options. A kit gives the merchant much more flexibility to display the member products. You'll be able to choose different display styles like a bullet list, selectable drop-down menu, radio style list, checkbox, or include products that are hidden. You can decide which of the kit's member products are required and which are optional, and how the kit will be displayed on the invoices. When you add member products to a kit, you'll be able to use a different name, price, or weight.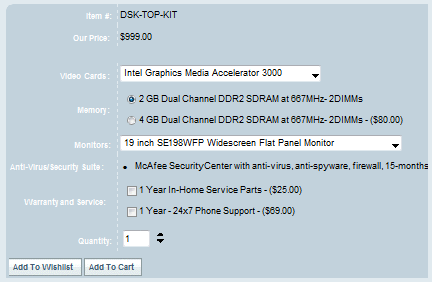 Shared Kits
Kits can share member products. When you change a member product that is shared with multiple kits, the change will affect all kits sharing that product. This makes pricing updates easier because you only have to change it once.
Subscription Plans
Any product can have a subscription plan included. A subscription can establish a billing plan and it can also add the customer to an existing user group. A subscription is time based, so when the plan or group membership expires, the customer is automatically removed from the user group, and any billing through your payment gateway will also cease.
Recurring Billing
The subscription feature integrates with several payment gateways that support recurring billing. When a subscription is purchased, we send the details to your payment gateway. This creates a new recurring billing account that you'll manage from your own merchant account system. Merchant accounts have the tools to send automatic email notifications to the customer and allow management of future payments.
Managing Subscriptions
After a subscription is purchased, you can view it through the subscription management menu. You will be able to see the details of each plan, or a summary of all subscription plans sold. You'll also be able to sort plans by expiration date, view plans expiring in 30, 7, or 0 days, and see the total number of active or inactive plans. Subscription plan maintenance is taken care of automatically.
Marketing your products in different ways
We have a variety of features that you can use to give your products some attention.
Cross-Selling
Create cross-selling scenerios by assigning related products to each other. When this happens, the customer is presented with some additional purchase ideas while shopping. A subtle approach to selling more.
Associate Products

Another approach is to up-sell, or choose accessories that would be good companion products. When a customer adds the main product to the basket, a new page is presented with additional items they may want to consider purchasing. Just search for products and add them as a product accessories.
Associate Categories
When you create categories in your store, you are creating pathways to your products. What better way to improve navigation and product awareness by creating useful category structures like Shop by Brand, Shop by Style, or Shop by Department. No matter how many categories you create, you are still maintaining just one product. Assign your products to as many categories as you like and the product will appear in multiple places in your store.
Volume Discounts and Coupons
Offer incentives to buy more with volume discounts based on the total amount purchased or the quantity of items purchased. When you create discounts, they will automatically appear on the product page.

Another great way to get some repeat business is to include a coupon code with a customer's purchase. You can create coupons for shipping, specific products, or an entire order amount.
Product Specials
Put your products on special by offering a limited time price discount and make it featured on your home page.